Reduced adoption fees for big dogs, adult cats and senior dogs to fight shelter overcrowding
The Kentucky Humane Society (KHS) is joining BISSELL Pet Foundation's "Empty the Shelters: Big Dog & Cat Crisis" emergency event August 17-21, 2021. This national event is dedicated to ensuring large dogs, adult cats and senior dogs get adopted into loving homes. During this nationwide event, BISSELL Pet Foundation will sponsor reduced adoption fees for eligible animals. This emergency event will be hosted in more than 80 shelters in 27 states, including KHS.
Tuesday-Saturday, KHS will offer $25 adoption fees for large dogs (40 lbs. or more) and senior dogs (seven or older) and $0 adoption fees for adult cats (six months or older) at the KHS East Campus at 1000 Lyndon Lane and the KHS Sam Swope Pet Treatment & Lifesaving Center at 241 Steedly Drive. Purrfect Day Café at 1741 Bardstown Road will also offer $0 adoption fees for adult cats. To see which animals are eligible for this special, visit www.kyhumane.org/dogs or www.kyhumane.org/cats. Animals will be identified as being on special starting Tuesday.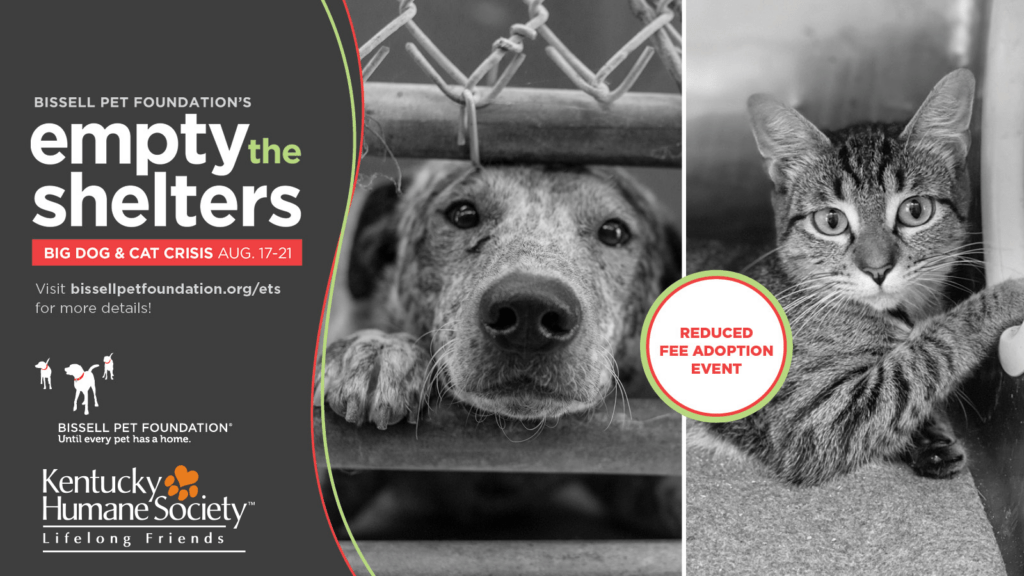 The "Empty the Shelters" event began in 2016 as an effort to encourage more families to adopt a pet into their home. Since its inception, BISSELL Pet Foundation has expanded its "Empty the Shelters" reach to organizations in 45 states and Canada, partnering with a total of 414 shelters. The goal for this emergency adoption event is to find forever homes for pets often overlooked in animal shelters.
To further support shelters in crisis throughout the nation, additional funding is being made available to shelters who can help others by transporting large and senior dogs and adult cats into their facilities. Shelters with higher adoption rates and the available kennel space are encouraged to support those who are struggling by accepting pets from other partner shelters. From August 23-29, participating shelters with successful adoption events will receive grants for each pet they transport into their shelter for adoption.
"Our nation's animal shelters are struggling in the face of overcrowding, which makes BISSELL Pet Foundation's 'Empty the Shelters' events an even more critical tool to ensure our shelter partners can find loving families for the pets who so often get overlooked," said Cathy Bissell, Founder of BISSELL Pet Foundation. "Shelters are being faced with tough decisions, such as euthanizing healthy, wonderful pets. We hope this event and the facilitated animal transports can provide some much-needed relief for shelters in dire need of support."
KHS the largest animal adoption agency in Kentucky, finding homes for more than 5,500 animals a year. Cats and dogs at KHS come not only from Jefferson County, but from overcrowded shelters across Kentucky. Last year KHS transferred in over 3,300 animals from 34 Kentucky animal shelters and placed them for adoption.
"We encourage everyone who has been thinking about adopting to visit KHS or another local animal shelter," said Kat Rooks, KHS Kentucky Initiatives Director. "Shelters across Kentucky are facing overcrowding this summer. The best way to help is to spay or neuter your pets and to adopt from a local shelter."
For more information on adopting or donating to "Empty the Shelters," visit www.bissellpetfoundation.org/empty-the-shelters as well as www.kyhumane.org.
About BISSELL Pet Foundation:
BISSELL Pet Foundation is a charitable 501©(3) nonprofit organization with a mission to help reduce the number of animals in shelters through pet adoption, spay/neuter programs, microchipping and emergency support. Founded in 2011 by Cathy Bissell, BPF is an extension of her long-standing love for animals and commitment to their welfare. BPF has since partnered with more than 5,300 shelters and rescues across the U.S. and Canada to help pets find loving homes. The foundation is supported by generous donors and BISSELL Homecare, Inc where every purchase saves pets. To learn more, visit www.bissellpetfoundation.org.