Our caring staff treat your pet like their own. And what makes our facility truly special is that proceeds benefit shelter pets!
---
Fern Creek Pet Resort
5225 Bardstown Road, Louisville, KY – Directions
502-499-1910 502-499-6540 (FAX)
[email protected]
HOURS: Monday through Saturday 7a.m.-6:30p.m., Sunday 8a.m.-5p.m.
Follow us on Facebook to view our specials!
The Fern Creek Pet Resort is nestled on five beautiful acres and conveniently located off Bardstown Road. This facility offers something for everyone: boarding with climate-controlled indoor kennels with private patios, an expansive Nature Trail, outdoor fully supervised Doggie Day Care, and full-service grooming. While you're away, let your dog enjoy our peaceful green space and our comfortable kennel accommodations.
Let our friendly staff help you choose the best combination of activities to suit your pet's needs.
Hear what people say about us!
Boarding Prices
Guests 70 lbs and under – $30 per day; $17 for each additional dog in the same run (maximum of 3).
Guests 71 lbs and over – $34 per day; $17 for each additional dog in the same run (maximum of 3).
Cats – $18 per day. $12 for each additional cat in the same condo (maximum of 3)
All services at the Pet Resorts are subject to a 6% Kentucky sales tax.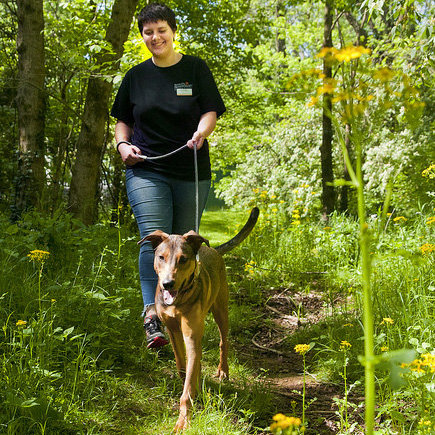 Boarding and Daycare Specials
50% Off – new clients get half off a five-day Doggie Daycare package (must mention this deal)
---
Vaccinations
Pets receiving any services at the Pet Resorts need to be up-to-date on vaccinations. Please contact your veterinarian as soon as possible to ensure your pet is ready. Learn about our vaccine requirements.
---
á la Carte Activities
Ensure your pet's stay with us is even more enjoyable by adding á la carte activities:
Fun 15 – Let your canine companion stretch their legs for 15 minutes while getting plenty of attention. $7
Dog of the Day – Your dog is invited to be spoiled all day in the office by our caring staff. $17
Nature Walk – This 30-minute leashed walk gives your dog a chance to enjoy the great outdoors (weather permitting). $12
Boarding Doggie Day Care – Let your dog enjoy 5 hours of socialization with other canines. $17
Romp & Roll (2 hours of daycare)  – Two hours of fun and interactive play with other friendly canines. $12
One-on-One Playtime – From belly rubs to tug-o-war, your dog will enjoy a 30-minute session with trained staff. Great for first-time boarders! $12
Treat Time – Your dog can enjoy a special tasty treat. $5
The Cat's Meow – Your feline friend can explore, chase toys and climb our cat trees during this 1-hour leg stretching session. $7
What You Should Know Before Boarding Your Pet (vaccines, check in/out times, cancellations, etc.)
---
Other Services
Grooming
Have our gentle groomers bathe, brush and pamper your pet with breed-specific cuts or a summer shave. Keeping in mind your pet's safety and comfort, our facility is equipped with a hydraulic grooming table and top-of-the-line step tub, especially beneficial to our elderly clients.
There is no charge for the last day of your pet's boarding if you schedule a full-service groom for that day.
All full-service grooming needs to be scheduled in advance.
Schedule your pet's appointment today! Call (502) 499-1910.
Doggie Day Care
Let your dog play for the day in our fully supervised outdoor Day Care. Your pooch will romp, run and socialize in a controlled and fun setting. Our interactive Doggie Day Care program allows clients to drop off their dog on the way to work (or while running errands), and then pick up their pet on the way home. Plus, you won't be the only one tired by the end of the day!
Save money by purchasing discounted weekly and monthly packages! Call (502) 499-1910.
---
Peak Season 2020
Boarding fills up fast during peak season, so we encourage you to make early reservations at Fern Creek Pet Resort. During peak season, we require a 50% deposit to reserve your pet's boarding. Payment must be made at the time of reservation and is refundable within two weeks of the drop off date.
JCPS Spring Break: 3/27 through 4/5
Easter: 4/10 through 4/12
Derby: 4/30 through 4/30
May-August (all dates)
Labor Day: 8/30 through 9/7
JCPS Fall Break: 10/2 through 10/6
Thanksgiving: 11/25 through 11/29
JCPS Winter Break: 12/18 through 1/4