About Us
The Kentucky Humane Society (KHS), located in Louisville, KY, is a private, nonprofit organization that is Kentucky's largest pet adoption agency. KHS is also the state's oldest animal welfare organization, founded in 1884.
Our mailing address is Kentucky Humane Society, 1000 Lyndon Lane Suite B, Louisville KY 40222. Our phone number is 502-366-3355.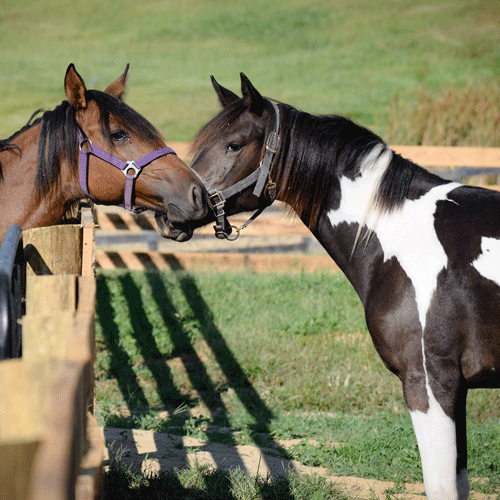 Our Mission
The Kentucky Humane Society is a champion for companion animals. Through leadership, education and proactive solutions, we are creating more compassionate communities.
Our Vision for the Future
KHS envisions a day when every companion animal is given the care, resources and lifelong home they deserve.
Our Commitment to Pets
The Kentucky Humane Society will never euthanize a pet due to a lack of space. We are committed to saving every healthy, behaviorally sound animal we take in.
Our Core Values
Core values are the fundamental beliefs that our staff live by every day. These guiding principles highlight what the Kentucky Humane Society stands for.
Always Pawsitive: Embracing optimism at all times with animals, ourselves, each other and our community.
Compassion Matters: Meeting everyone with an open mind, kindness and respect.
Inspire Others: Encouraging collaboration, perseverance and dedication for our mission.
Ever-Evolving: Leading the change our communities need.

Executive Staff
Our Leadership Team Members

Our Board of Directors
Patrick Padgett (chair)
Tara Bristow (chair elect)
Tony Deye (immediate past chair)
Toni Clem (governance)
Chris Kramer (finance)
Leigh Anne Hughes (secretary)
Shari Ammon
Landon Brantley
Melissa Hicks
Rachel Horton
Ellen Stubbs
Karen Williams
Advisory Board
Brian Haara
Rick Maynard
Patti Swope
Our Life-Saving Efforts
In 2022, 6,133 animals found homes through KHS. Thanks to our amazing supporters, 5,857 animals were adopted and 276 were transferred out to other agencies for adoption. Another 123 animals were reunited with their owners.
Lives Saved
KHS saves every single adoptable animal and has no "time limits." In 2022, over 96% of all the pets we took in were saved; KHS only euthanizes pets who are too gravely ill, too dangerous or too behaviorally unsound to be rehabilitated and adopted. Read about our euthanasia policy. We report our outcomes to Shelter Animals Count, a national database that tracks animal shelter statistics; learn more about how our percentage of lives saved is calculated.
Our Programs
While KHS is most known for adoptions, we have many programs—all designed to strengthen the bond between people and pets, and ultimately end pet overpopulation and homelessness. Our programs include:
Adoption
KHS finds loving homes for thousands of cats and dogs per year through its two adoption sites in the Louisville area: the East Campus at 1000 Lyndon Lane and the Sam Swope Pet Treatment & Lifesaving Center (also called the Main Campus) at 241 Steedly Drive. We also offer feline adoptions Purrfect Day Café. All KHS pets are spayed or neutered, microchipped, wormed, given flea preventative, heartworm tested and are up-to-date on vaccinations.
S.N.I.P. Clinic
Since opening in 2007, the S.N.I.P. Clinic has spayed or neutered more than 165,000 pets. This has helped lead to a decrease in the number of cats and dogs surrendered to our city's shelters. Our community has seen a more than 60% decrease in the number of local animals admitted to Louisville shelters since 2007.
In 2022, the S.N.I.P. Clinic provided surgeries to 9,166 local cats and dogs. Thanks to generous grant funding and private donors, 33% of all surgeries were free or reduced fees.
CARE-a-van Mobile Clinic
Launched in 2022, the KHS CARE-a-van Mobile Veterinary Clinic brings low-cost basic veterinary care to pet owners in Louisville and rural counties. Services currently include pet wellness exams, vaccines, heartworm tests, microchips, flea/tick and heartworm preventatives, nail trims, and spay or neuter surgeries.
Behavior Training for Owned Dogs
Dog Training Classes: KHS offers a variety of training opportunities designed to keep pets in their original homes and out of shelters. KHS's behavior trainers are professionally trained and certified. We offer a wide-range of classes from puppy and basic manners, to classes for dog-reactive dogs and shy dogs. KHS instructors use only positive reinforcement techniques, and classes are taught at locations throughout Louisville.
Pet Resource Services
Our Pet Resource Services provides free pet-related advice to anyone in our community. Pet Resource Services, which is funded by grants and donations, is designed to help keep pets in their homes and out of shelters by giving pet owners the tools they need to have great relationships with their pets. KHS experts provide advice for common behavior problems and help pet owners connect with local resources, such as pet-friendly apartment guides, local pet food banks, behavior trainers, and rescues for other species. Pet Resource Services also schedules appointments for owner-surrendered dogs and cats.
Pet Resorts
The KHS Eastpoint and Fern Creek Pet Resorts offer safe, comfortable boarding for owned cats and dogs. Pet owners can choose from a rustic setting with outdoor trails at our Fern Creek Pet Resort or luxury lodging for pampered pets at our Eastpoint Pet Resort. All-breed grooming, á la carte activities and Doggie Daycare are available at both locations.
Not only do we keep pets safe, healthy and happy while their owners are away, but all proceeds from the pet resorts support KHS's lifesaving mission, benefiting less fortunate pets.
Equine C.A.R.E. (connect, assist, rescue & educate)
Our Equine C.A.R.E. (connect, assist, rescue & educate) Program focuses on helping Kentucky's at-risk horses. Equine C.A.R.E.'s focus areas include moving horses from crisis into safe homes or rescue, providing online re-homing services to horse owners who can no longer keep them, matching available horses with adopters, and making educational tools and resources available to our equine community. Learn more
Our Financial Accountability
KHS maintains an operating budget of approximately $8 million annually through the generous support of our donors, and through self-generating revenues, such as fees for services at our two pet resorts, humane education and behavior training programs.
KHS is not an affiliate of any local or national animal welfare organization and does not receive government funding. Because KHS is a local nonprofit agency, donations to KHS stay in our community, helping our pets.
Our Admissions Policy
Surrendering a pet to a sheltering agency should be considered a last resort. The Kentucky Humane Society encourages pet owners to consider all available alternatives prior to contacting the KHS Admissions Office. These may include rehoming animals with friends, relatives or neighbors. Pet owners have a number of choices, and surrendering pets to KHS is just one of them. If owners cannot find alternative placements, the KHS Admissions Office can help.
Since KHS will not euthanize for space, we require appointments for admissions. This ensures each incoming pet has a temporary place to call home and receives the attention they need until permanent placement can be found. Priority is given to pets in immediate danger.
The Kentucky Humane Society accepts owner-surrendered pets by appointment at the Sam Swope Pet Treatment & Lifesaving Center (TLC) at 241 Steedly Drive in Louisville.
We accept stray dogs and cats as space allows and by appointment; we hold pets for the legally required stray hold period, giving owners the opportunity to reclaim their pets. After the stray hold period has passed, pets that pass our health and behavior assessment are placed for adoption.
There are occasions when KHS is unable to accept a pet. If we are unable to accept a pet, KHS will provide the owner(s) with a list of alternative resources.
KHS is a private nonprofit agency and charges a $40 admissions fee per pet. Discounts are offered for litters.
Owners or finders may choose to receive notice should their pet ever be deemed unadoptable. Once notified, owners/finders have 24 hours to reclaim these pets if they wish.
Our Euthanasia Policy
In 2022, just 2% of the pets who came through our doors were euthanized! Humane euthanasia is only used for pets who are too ill or too behaviorally unsound to be safely adopted.
Euthanasia is always the last resort and is an option only after every attempt to provide medical treatment, behavioral modification or transfer to another rescue organization has been exhausted. Each decision is made carefully using criteria outlined by national standards within the humane industry.
How You Can Help
As a private nonprofit agency, the Kentucky Humane Society relies on donations of time and resources to care for thousands of needy pets. You can help by:
Volunteering: Please check out our Volunteer page.
Donating: Donations from individuals, organizations and corporations in our area allow us to continue our life-saving work. You can make a gift by:
Calling (502) 515-3143
Mailing a check to the Kentucky Humane Society, 1000 Lyndon Lane Suite B, Louisville, KY 40222
Donor Privacy Policy
KHS staff will maintain an accurate database of all donors and prospects. It is the ethical responsibility of all KHS employees and volunteers to protect and consider confidential all information on donors and prospects that are maintained in KHS files. In accordance, all board, staff and volunteers with access to this information sign a confidentiality agreement agreeing to this statement.
Donor names and contribution levels are public information unless the donor requests anonymity. Background information and other prospect research is not public information.
A donor or prospect may request to see his/her personal file at any time during regular business hours with 24-hour notice. A donor can also choose to have their name and/or contribution level remain anonymous. Email [email protected] or call 502-515-3143 to discuss.
Prospect and donor files (including computer databases) are property of KHS. An employee or volunteer may not use, extract, duplicate, use for personal endeavors, provide to non-organizations or persons, sale or distribute for non-authorized purposes or hold any unpublished files for any use other than the advancement of the KHS mission.
Donors who supply KHS with their postal address, email address or telephone number may be contacted periodically for solicitation purposes and/or with information regarding upcoming events. Donors may request to be permanently removed from the KHS mail, email and phone lists by contacting KHS via email, phone or postal mail. All requests to be removed from the KHS mail, email and phone lists will be honored.
KHS does not sell, trade, rent or otherwise make available personal donor information to other fundraising organizations, nor do we send mailings on behalf of other organizations. KHS is not a branch or affiliate of any national humane organization; we are a local, private nonprofit organization.
Need to know our Online Privacy Policy? Visit this link.